In the United Kingdom can participate in several lotteries, and the UK Lotto is one of them. It organizes a draw every Wednesday and Saturday evening at 20:30 UK time. Thousands of UK Players are in front of their television and hope to win the Jackpot.
Where could i online buy a UK lotto ticket in 2023?
Promo 2023: BUY 1 AND GET 1 FREE TICKET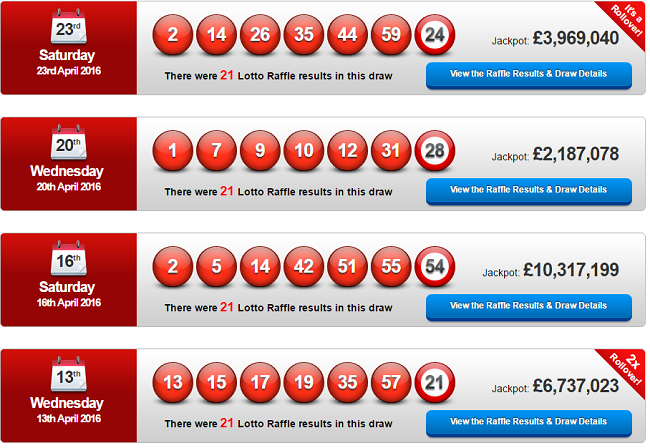 UK Lotto
The UK Lotto was established in 1994. Since then, it has attracted thousands of players from the UK and the Isle of Man. There is just one way to win the UK Lotto: pick the correct six numbers from a range of 1 to 59. There are five standard numbers and one bonus numbers. If all these numbers have a match with those numbers during the draw, the Jackpot is yours. How more matching numbers you have, how bigger the prize. For example, you win 1000 pounds when you have 5 matching numbers on your ticket. With 4 correct numbers you win 100 pounds and 3 correct numbers are worth 10 pounds. You can also win 2 pounds when 2 correct numbers.
Draws & results
Previous winners
You're definitely not the first one to win the UK Jackpot. The biggest win ever took place in 2016, when an very lucky player won 35,133,888 pounds, about 39,884,082 euros! The new millionaire, who wants to be anonymous, did not even have to share the prize. Sometimes more than one person wins and as a result the money needs to be shared. For example, a few years ago two players shared astonishing 66 million pounds!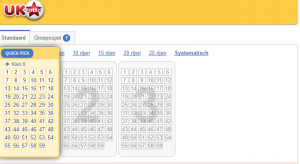 History UK National lottery
The UK National lottery was renamed lotto shortly after the first ever draw. After a successful launch period the UK lotto game was extended to be drawn twice per week to include the Wednesday UK lottery draw. The current operators of the UK National lottery (Camelot) also launched the Euromillions lottery draw (European lottery) a few years later, and are now believed to be planning a new "Global lottery" game in the next few years, which promises some truly massive jackpots as people all over the world play in the game.
With a current record jackpot of £42 million GBP, the UK National Lotto is one of the richest, lump-sum, tax-free lotteries in the world. Players must match their selected 6 numbers with the 6 main numbers drawn from a pool of 49, numbered 1–49 to win a share of the lottery Jackpot. Besides the jackpot, there are other prizes to be won if players match 3, 4 or 5 numbers or 5 numbers plus the "bonus ball" (drawn separately after the 6 main numbers).
How is the lottery entry fee divided?
National lottery tickets cost £1 each, which is broken down as follows:
£0.50p to the Prize fund
£0.28p goes to good causes
£0.12 is tax goes to UK government
£0.05p to retailers
4.5p goes to Lottery operator to cover expenses
0.5p goes to Lott0 operator as its profit
The UK National lottery is reported as being the lottery fund that returns the most money to society than any other lottery game.
How to play UK lotto in 2023?
To play the Lotto all you need to do is choose a day to play, either Wednesday or Saturday. Then you select 6 numbers from 1 to 49, or you can ask for a lucky dip (the machine selects 6 numbers for you) Both Draws are live on TV (BBC 1) Saturday 19.30 and Wednesday 22.35 (Times change) Lotto tickets are £1 per draw.
The first draw took place on 19 November 1994 and since its launch, the National Lottery has:
Made over 2,000 millionaires in the UK
Funds raised for good causes total over £22 billion – so far
Money paid out as prizes over £29 billion – so far